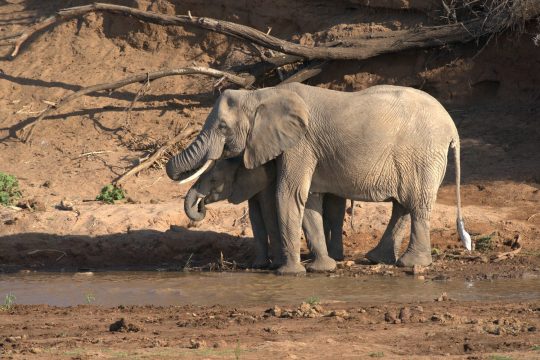 Amboseli
National Park
Amboseli National Park is in southern Kenya. It's known for its large elephant herds and views of immense Mount Kilimanjaro, across the border in Tanzania. Observation Hill offers panoramas of the peak and the park's plains and swamps. Varied wildlife includes giraffes, zebras, cheetahs and hundreds of bird species. The western section is dominated by vast Lake Amboseli, which is dry outside the rainy season.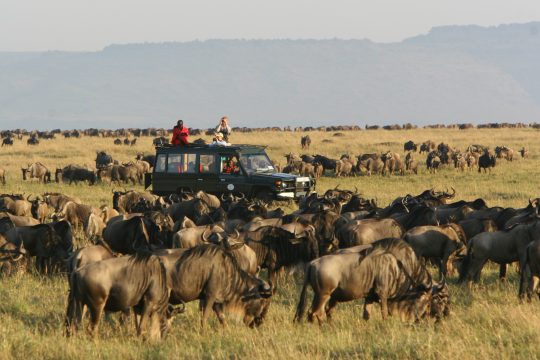 Maasai Mara
Game Reserve
Maasai Mara National Reserve is an area of preserved savannah wilderness in southwestern Kenya, along the Tanzanian border. Its animals include lions, cheetahs, elephants, zebras and hippos. Wildebeest traverse its plains during their annual migration. The landscape has grassy plains and rolling hills, and is crossed by the Mara and Talek rivers. The area nearby is dotted with villages (enkangs) of Maasai people.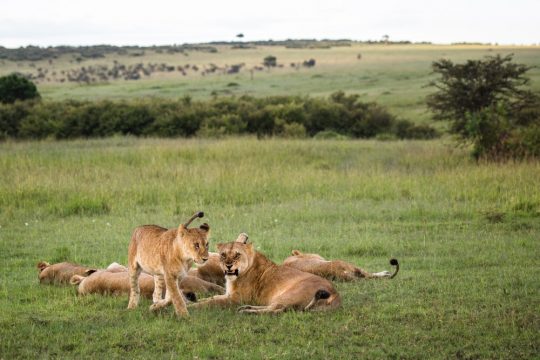 Serengeti
National Park
Probably the most well-known area of Tanzania, this park covers 14,763 square kilometers (5,700 square miles) of dry rolling grassland in the south and rocky hilly areas in the north. This area boasts the best wildlife viewing and is Tanzania's oldest national park, as well as a UNESCO World Heritage Site. Over two million animals participate in the Great Migration, where wildebeest, zebras, and gazelles migrate from the Serengeti to the Maasai Mara Reserve in Kenya.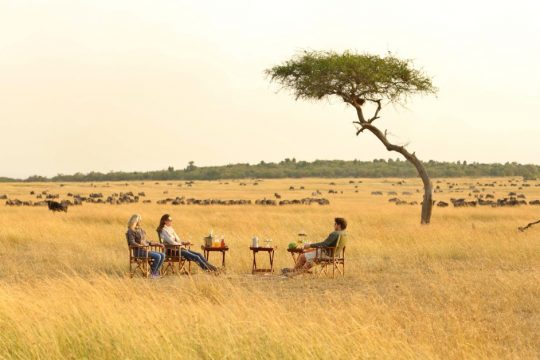 Ngorongoro Crater
National Park
World's largest inactive, intact & unfilled volcanic caldera, home to ample wildlife & bird species. Ngorongoro Crater Lodge has been called the game lodge at the top of the world. Between the natural riches of the Crater spread out at its feet and the incredible architecture, it's easy to believe that you have entered a realm of pure fantasy.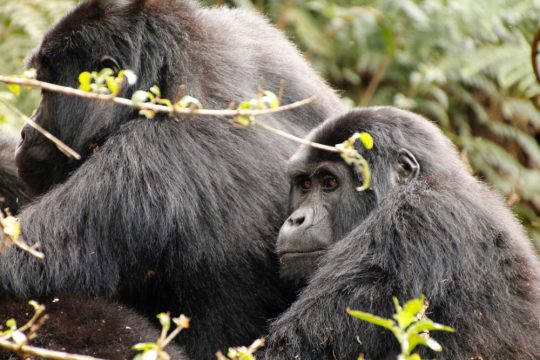 Bwindi Forest
Gorilla Trekking
There are fewer than 900 mountain gorillas in existence, and gorilla trekking provides a rare opportunity to observe the everyday interactions of these gentle, mysterious primates. Mountain gorillas only live in the dense vegetation of Uganda's Bwindi Impenetrable Forest National Park and along the dormant volcanic Virunga mountain range that stretches across Rwanda's Volcanoes National Park, Uganda's Mgahinga Gorilla National Park, and Virunga National Park in the Democratic Republic of the Congo.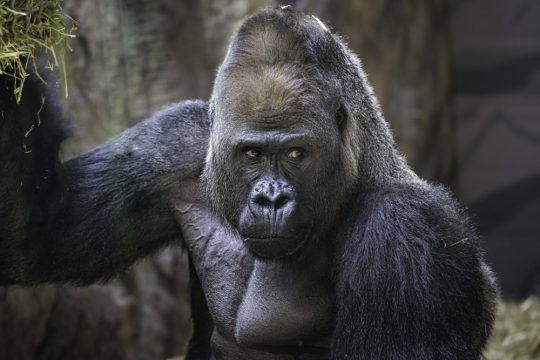 Bwindi Impenetrable Forest
National Park
The Bwindi Impenetrable Forest is a large primeval forest located in south-western Uganda in the Kanungu District. The Bwindi forest is on the edge of the Albertine Rift, the western branch of the East African Rift, at elevations ranging from 1,160 to 2,607 metres.
Bwindi is also popular for having Mountain Gorillas. Here you will find a few of the only Mountain Gorillas in the world. It is an amazing place for Gorilla trekking.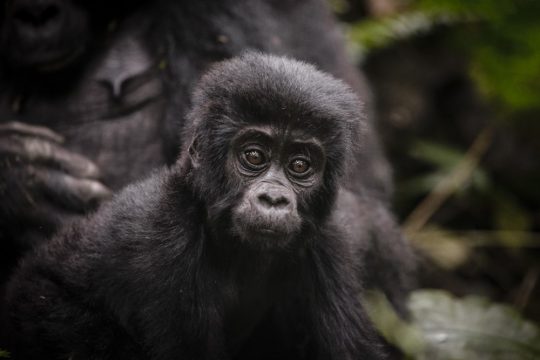 Nyungwe
National Park
One of the oldest rainforests in Africa, Nyungwe is rich in biodiversity and spectacularly beautiful. The mountainous region is teaming with wildlife, including a small population of chimpanzees as well as 12 other species of primate, including the L'Hoest's monkey endemic to the Albertine Rift.
With 15 trails, some of which are detailed here, along with various other activities, visitors can choose to sample the delights of the forest or indulge themselves for a week or more in one of Africa's most stunning forests.
Zanzibar

Stone architecture, deep sea fishing excursions, the Palace Museum, the House of Wonders, and fabulous food. On this island, every section has its own scent. It's Zanzibar!
Zanzibar has something for everyone, whether it is snorkeling or going to the Palace Museum to learn about the sultans. You'll discover the tombs of several sultans in front of the Palace Museum in Stone Town. This includes a double tomb for a certain sultan's legs, which were amputated so his legs were buried first. Then when the sultan died years later, the rest was buried in the second tomb.
There are bookshops and coffee shops that abound in this region. Where else in the world can you go to the beautiful beaches, buy great souvenirs, learn about spices and coffee…oh and swim with the dolphins? Zanzibar is as fun to say as it is to visit!
Country
Kenya Country Information
Language:
Swahili is the national language and English is the official language. There are over 42 ethnic languages spoken, including Kikuyu and Luo.
Religion:
Mostly traditional but there is a sizeable Christian population (both Catholic and Protestant) and a small Muslim community.
Electricity:
220/240 volts AC, 50Hz. Plugs are UK-type square three-pin. Bayonet-type light sockets exist in Kenya.
Telephone:
Country code: 254 (followed by 20 for Nairobi, 41 for Mombasa and 51 for Nakuru). International calls can sometimes be made direct or operator-assisted by dialing 0196. Public telephones work with coins or with phone cards (which may be purchased from post offices or from international call services in major towns); coin-operated phone booths are painted red, card-operated booths are painted blue. Major hotels also offer an international phone service, but they usually charge up to 100% more. In larger towns, private telecommunication centers offer international services. For local calls, it is useful to have plenty of small change
Mobile Telephone:
Roaming agreements exist with international mobile phone companies. The main network providers are Celtel (website: www.celtel.com), which has extensive coverage in the south west and around the coast and Mombasa, and Safari com (website: www.safaricom.co.ke), with coverage in from Mombasa to Nairobi and in the southeast. Internet: There are internet cafes in major cities and hotels.
Internet:
There are internet cafes in major cities and hotels.
Kenya Visa Information:
US/Canada/UK/Australia — Passport valid for at least six months required. Visa may be purchased on arrival at the airport.
Single entry visa is $50 per person, payable in cash (no credit cards). Visas may also be obtained in advance through a visa service. We recommend CIBT.
Nairobi (NBO) (Jomo Kenyatta International) is 16km (10 miles) southeast of the city.
Mombasa (MBA) (Moi International) is 13km (8 miles) west of the city.
The following goods may be imported into Kenya by passengers over 16 years of age without incurring customs duty: 200 cigarettes or 50 cigars or 250g of tobacco; 1l of spirits or 2l of wine; perfume and toilet water not exceeding in all 0.5l of which not more than a quarter may be perfume. Firearms and ammunition require a police permit. Pets require a good health certificate, a rabies certificate and an import permit. The import of fruit, plants, seeds, children's toys and imitation firearms. The export of gold, diamonds and wildlife skins or game trophies not obtained from the authorized Kenyan government department is also prohibited.
TOURS
Kenya Tour
Read More