My wife and I recently took a Kenyan Safari in August 2022 to the Amboseli National Park, Tsavo East, and the Maasai Mara National Reserve. We chose this time because of the wildebeest migration, which, to be honest, was unbelievable. However, as much as we experienced some troubles, our Kenya safari 2022 experience was better than anticipated.
Since it was our first time, we didn't know what to expect; however, we did some research on the places we were to visit and read reviews which gave us a rough idea of what would happen. So, here is a brief overview of our experience on Kenya Safari in August 2022.
We were lucky to get a tour company that immediately picked us up from the airport, and our adventure began immediately. We took our brunch at Four Points before commencing our 9-hour drive to the Maasai Mara National Reserve. The tour guide made stops at some of the iconic places where we took pictures.
Pro tip: There is no point in going for a Kenyan safari if you don't have any means to capture the fascinating animals and beautiful landscapes.
We made a few other stops during lunch, and at around 6:00 pm, we arrived at Maasai Mara, where we checked into our camp. We craved the adventure so bad that we decided to go for an evening drive.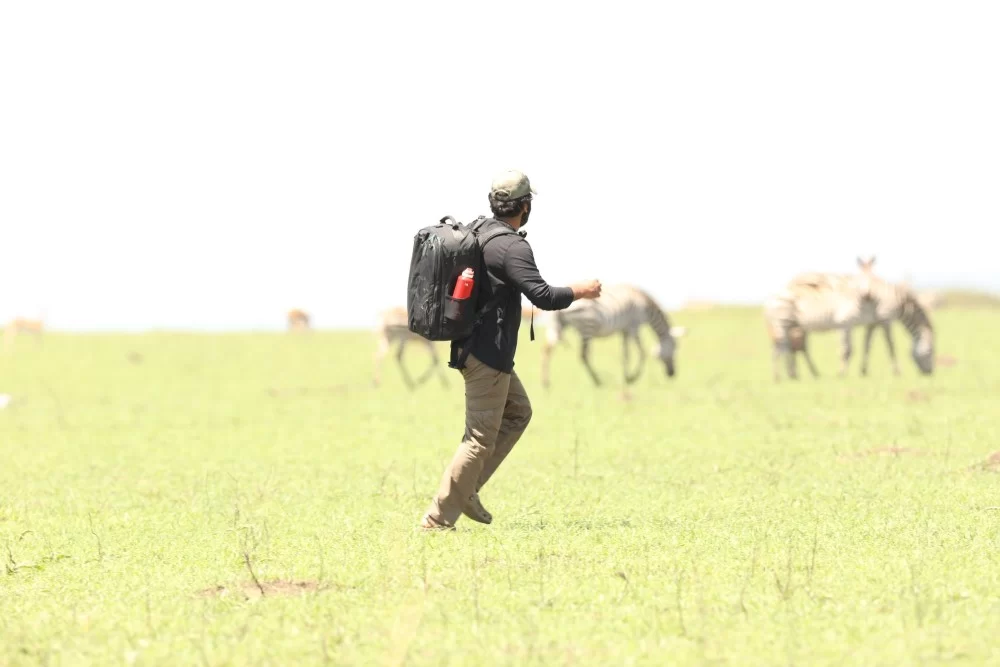 The evening drive wasn't that intense as we spotted a few elephants alongside the tour roads. However, considering there was not much activity, the driver gave us a few spooks and an idea of what to expect. We returned to our camp at around 8 pm and then took our supper before calling it a day. 
Lions and Elephants of The Maasai Mara
I couldn't wait to begin the adventure the following day. Unfortunately, the weather was a little bit hotter than the previous day. Nevertheless, it wasn't long before we spotted some giraffes, wildebeests, and zebras casually grazing alongside us. My wife was amazed by how close the animals were and started taking pictures. The view was terrific until she began to take too many photos that I think upset them and chased them away.
We continued exploring the Kenyan Savannah, and it was not long before we spotted a pride of lions. I admit I was a bit scared since they were like a group of 6 lionesses. It took a while before overcoming the fear and having the courage to keep going. Then, we came across another pack of lions some few meters ahead; however, they were asleep.
This was the most uncomfortable moment; however, the worst was yet to come.
We carried some food with us to maximize the safari adventure. The road led us to a group of elephants casually strolling along the path. Our tour guide decided to stop the truck to avoid intimidating any of them.
It was scary watching one of the Big Five animals walking past us. First, one of them stopped and stared at us, making my heart stop. Then, before joining the rest of the pack, the beast studied us for a while. I looked at my wife, who had stopped taking photos, and froze.
We went on our trip and interacted, where we saw buffalos, wildebeests, rhinos, hippos, hyenas, and antelopes. I was on a mission to see and take photos of the big five, and by around 4 pm, we had seen only four. We searched and looked around to see if we could spot any leopards, but it was all in vain.
We made the most of this time, taking pictures at some of the 'safe spots in the national reserve before returning to our camp.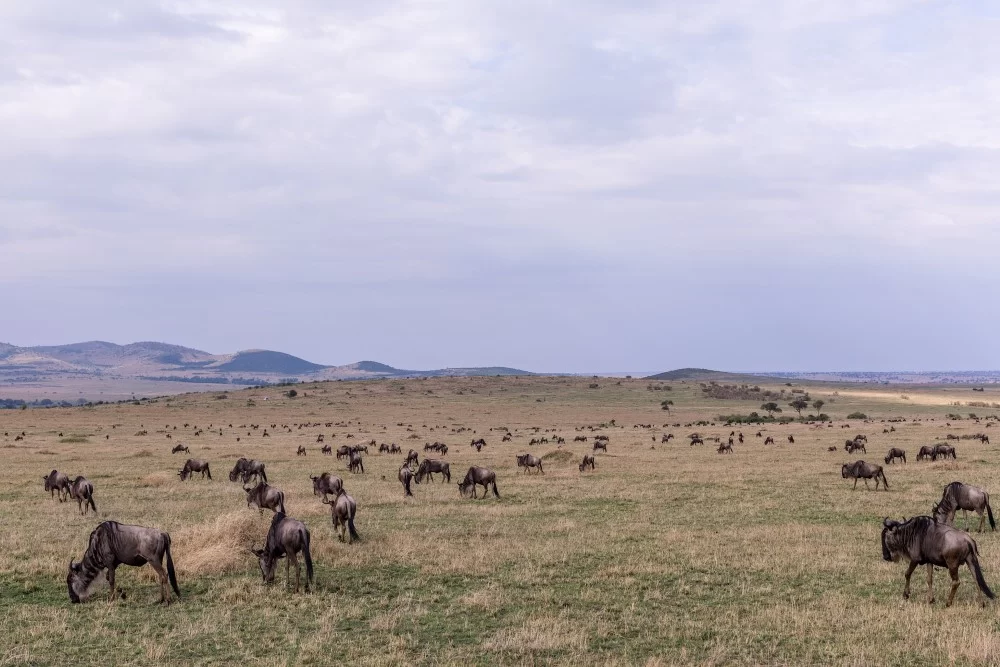 Our Overall Kenya Safari 2022 Experience at The Maasai Mara
It was our first time going on a safari, so each moment was unique and thrilling. We had a good time, especially during the instances of terror, and we were lucky to have an experienced tour guide. Our guide was also kind enough to take us to some of the most intense action spots where we witnessed wild encounters.
Our only challenge was the bumpy roads on our way to the park and as we explored the neighboring sites.
Trip to The Maasai Mara Village
I was craving more game time the following day, but it was time for a new experience at the Maasai Mara Village. It was time to experience and live the rich African heritage by living among one of Africa's most iconic tribal groups. The tour guide reminded us to be open-minded and let out our insecurities since the village was a safe space.
As we were nearing the villages, there were lots of mud houses, which were later explained to us that they were manyattas. The trip and interaction were initially a bit uncomfortable, but after 30 minutes or so, I began interacting with the Maasai elders freely.
One thing I loved about the Maasai Community was their spirit of togetherness. It was unbelievable how a community maintained all aspects of its traditions at such a time.
It was an honor joining the morns, the warriors of the tribe, and participating in the traditional jumps. We had the chance to learn their rites of passage and intriguing rich history. After the performance, we visited their homes and learned more about their homesteads. After having lunch, we proceeded to the marketplace, where we found some nice souvenirs. Here is where I got introduced to the art of bargaining.
I came to learn that almost all of the Maasai artifacts are DIY products. The people create everything independently, from the bracelets to making fire using a cow's dung.
Our Overall Experience At The Maasai Mara Village
The experience was way better than I anticipated. The people sang and danced for us for over 100 years old songs. We also had the chance to participate in interactive dances. So prepare yourself to dance and jump for a long time.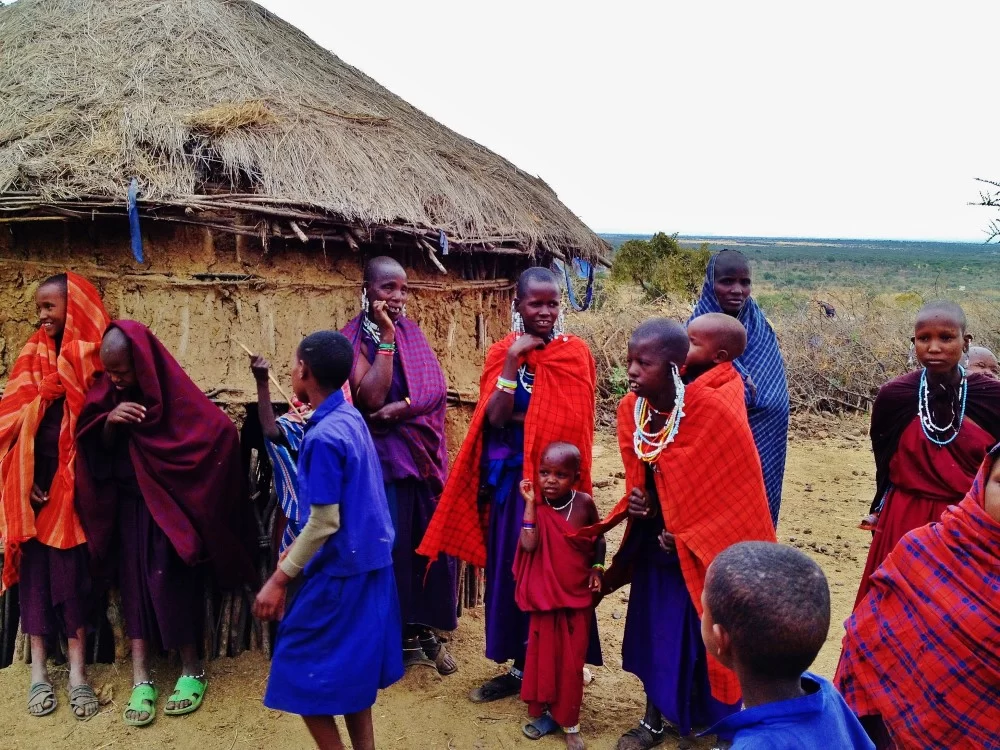 The only challenge I had on the trip was access to clean water. Don't get me wrong; fresh water is available; however, I preferred drinking the one I had back in the safari truck.
That was the end of our 2-day safari tour, and we flew back to Nigeria the following day. I wish we had more time to explore the Kenyan coast, but we had to return to work.
Experience It Yourself
If you're looking for the best getaway from your day-to-day activities, a Kenyan safari is what you need. You will enjoy captivating moments at the Savannah grasslands, home to the Big Five. Based on our experience and interactions, here are some helpful tips that will help you during your safari:
Choose a reputable company that considers your interests, needs, and preferences. Of course, spending more and getting a more customizable package for you and your family is also better.

Carry water everywhere you go. Kenya is hot, especially in August, and it is easy to get dehydrated.

Wear comfortable shoes. Forget your heels or official shoes; wear comfortable sports shoes if you wish to interact with nature and people better.

Carry cash with you everywhere since most shops do not accept credit or debit cards.
Don't expect a smooth journey. A safari is an adventure in the wild, and there will be instances where you might get uncomfortable. However, our tour company helped where they could to ensure we had a seamless journey.
The Bottom Line
My wife's and I adventure at the Maasai Mara was one that we never thought we could take. Our trip was fulfilling, and the first thing I did when I got back home was to recommend the safari to friends and workmates. The pictures were terrific, and it is something I will treasure for the rest of my life. A Kenya safari 2022 is what you need; however, I'm not sure about bird watching since I'm not a fan.