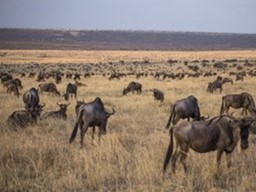 Luxury Safari Kenya. What to Expect?
Kenya is home to the Big Five beasts of Africa, and it is the best place for anyone looking to interact with the iconic cats of prey in their natural habitats. There's a wide variety of places to visit and animals to see, and all you need is to find the right package that includes all the captivating moments. Among the various options available, the best choice is a luxury safari Kenya package that allows you to customize and create your ideal travel plan. 
You also get to stay at some of the prestigious hotels in Kenya and enjoy additional premium services not available in other packages. Here is a comprehensive list of what to expect in the luxury safari in Kenya: 
Five-Star luxury Safari Kenya Accommodation 
All luxury safari Kenya packages offer five-star accommodation at the best African hotels. These hotels provide premium services, full-course meals, and neat rooms. You'll get perfect customer service from skilled and experienced staff who meet all your accommodation demands. 
The good thing about five-star hotels is that they offer additional space and amenities supporting various activities that keep your kids engaged when not on the safari tours. You can also decide to ask for private spaces and other customized room options depending on your mood. 
Unlike other safari packages, the luxury safari Kenya options allow you to go off-route, making it possible to explore the parks effectively. You will also enjoy navigating through the uneven terrain in the 4X4 tour vehicle. It is very difficult and rare to see the cats of prey in action when you choose to stick to the roads, and the option of going off-road ensures you experience the wild and untamed Big Five of Africa. 
Luxury safari packages also allow long-distance drives, and this is the best way to take a break from the captivating wildlife and behold the stunning Kenyan landscapes. You will enjoy quality time in the well-maintained and air-conditioned SUV ride. 
While other safari packages only offer the 4X4 and basic modes of transportation, the luxury option includes international and domestic flights to other attraction sites in neighboring countries. As much as the additional cost is on you, the offer removes the hassle of trying to book your tickets by yourself. 
For instance, you can take your 4X4 tour van to the Maasai Mara to experience the annual wildebeest migration today, then take a flight to Mount Kilimajaro, another attractive attraction site near the Maasai Mara Game Reserve. You can also try hot air ballooning to get an aerial view of the migration. 
Conclusion 
All packages offer a comprehensive experience of the intriguing Kenyan wildlife; however, there are many advantages of booking a luxury safari Kenya package. Once you book any luxury safari in Kenya, you should expect royalty treatment, from your hotel rooms to personalized tour guides. No better option offers such a personalized touring experience.