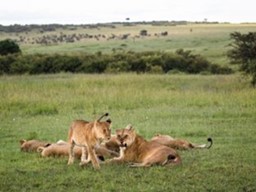 Here is How to Get the Right Price for Safari Kenya Packages
A safari in Kenya is where you will experience the wild and untamed side of the African continent. But how much is the price for safari Kenya packages? 
This review will give you insight into the available packages and how much they cost. Use this information to create the ideal budget to help you determine the places you want to visit. 
The average price for a safari Kenya package is 10-D $3,000. However, these prices do not include international flights, medical insurance, or visa fees. The good thing is that there are various safari packages available, giving you the option to pick one that matches your budget, and they are divided into three main categories that include: 
A budget safari to Kenya costs between $1,000 and $1,700, and it is the best option for those working on tight budgets. These affordable options include travel and accommodation essentials needed for the trips. You can expect to stay at three or 4-star hotels. The good thing about these packages is that they offer amazing tours to some of the best destinations, such as the Maasai Mara, Lake Nakuru, Nairobi National Park, etc. 
The services of a budget safari are satisfactory since the packages include meals, transport, a professional guide, and other fun activities. However, the only disadvantages are that you get no special services and you might have to cater for some extra meals. 
Mid-Range Price for Safari Kenya Packages 
The mid-range safaris cost between $2,000 and $4,000 and are more customizable than the Budget option. They offer more comfort and relaxing views of the peaceful Indian ocean shores. In addition, accommodation is better, and you'll enjoy top-tier services in premium, comfortable rooms. Many other interesting activities are included, such as cultural interactions with the rich Kenyan heritage. 
Most mid-range safaris offer full meals, transport (including flights), accommodation, professional tour guides, and many other activities. What mostly lacks in these packages is special services such as private tours, and they only cover basic meals; therefore, if you wish to try out the different Kenyan foods, you'll have to spend. 
Luxurious Safari Packages 
Luxurious prices for safari Kenya packages range from $4,000 and can go up to $15,000, depending on your preferences. One of the reasons behind these prices is that they are customizable, and some allow you to determine the kind of places you want to visit or sleep. There are no better packages that even include personal tour guides, complete transportation, and all other premium services. Feel free to spend your time at some of the luxurious 5-star hotels. 
Conclusion 
There is a wide variety of Kenya safari packages, and this review summarizes the comprehensive list into three main options. Each of these options provides quality services; the only difference is their customizations. Therefore, if you wish to visit, use this guide to determine the right price for your safari to Kenya.