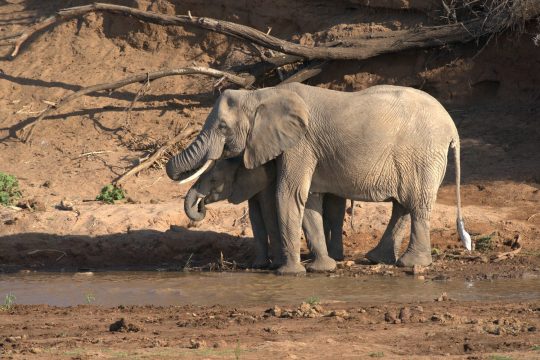 Amboseli
National Park
Amboseli National Park is in southern Kenya. It's known for its large elephant herds and views of immense Mount Kilimanjaro, across the border in Tanzania. Observation Hill offers panoramas of the peak and the park's plains and swamps. Varied wildlife includes giraffes, zebras, cheetahs and hundreds of bird species. The western section is dominated by vast Lake Amboseli, which is dry outside the rainy season.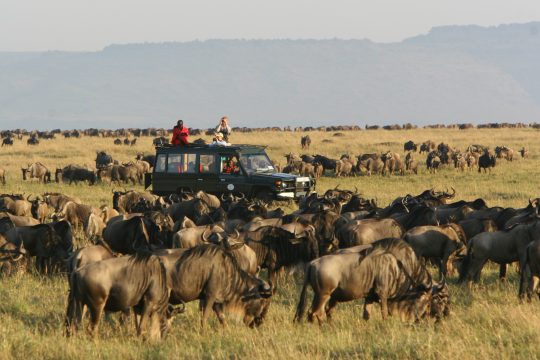 Maasai Mara
Game Reserve
Maasai Mara National Reserve is an area of preserved savannah wilderness in southwestern Kenya, along the Tanzanian border. Its animals include lions, cheetahs, elephants, zebras and hippos. Wildebeest traverse its plains during their annual migration. The landscape has grassy plains and rolling hills, and is crossed by the Mara and Talek rivers. The area nearby is dotted with villages (enkangs) of Maasai people.
Country
Kenya Country Information
Language:
Swahili is the national language and English is the official language. There are over 42
ethnic languages spoken, including Kikuyu and Luo.
Religion:
Mostly traditional but there is a sizeable Christian population (both Catholic and Protestant) and a small Muslim community.
Electricity:
220/240 volts AC, 50Hz. Plugs are UK-type square three-pin. Bayonet-type light sockets
exist in Kenya.
Telephone:
Country code: 254 (followed by 20 for Nairobi, 41 for Mombasa and 51 for Nakuru).
International calls can sometimes be made direct or operator-assisted by dialing 0196.
Public telephones work with coins or with phone cards (which may be purchased from post
offices or from international call services in major towns); coin-operated phone booths
are painted red, card-operated booths are painted blue. Major hotels also offer an
international phone service, but they usually charge up to 100% more. In larger towns,
private telecommunication centers offer international services. For local calls, it is
useful to have plenty of small change
Mobile Telephone:
Roaming agreements exist with international mobile phone companies. The main network
providers are Celtel (website: www.celtel.com), which has extensive coverage in the
south west and around the coast and Mombasa, and Safari com (website:
www.safaricom.co.ke), with coverage in from Mombasa to Nairobi and in the southeast.
Internet: There are internet cafes in major cities and hotels.
Internet:
There are internet cafes in major cities and hotels.
Kenya Visa Information:
US/Canada/UK/Australia — Passport valid for at least six months required. Visa may be purchased on arrival at the airport and available online.
Single entry visa is $51 per person, payable in cash (no credit cards). Visas may also be obtained in advance through a visa service. We recommend CIBT.
Nairobi (NBO) (Jomo Kenyatta International) is 16km (10 miles) southeast of the city.
Mombasa (MBA) (Moi International) is 13km (8 miles) west of the city.
The following goods may be imported into Kenya by passengers over 16 years of age without incurring customs duty: 200 cigarettes or 50 cigars or 250g of tobacco; 1l of spirits or 2l of wine; perfume and toilet water not exceeding in all 0.5l of which not more than a quarter may be perfume. Firearms and ammunition require a police permit. Pets require a
good health certificate, a rabies certificate and an import permit. The import of fruit,
plants, seeds, children's toys and imitation firearms. The export of gold, diamonds and
wildlife skins or game trophies not obtained from the authorized Kenyan government
department is also prohibited.
For help contact us
TOURS
Kenya Tour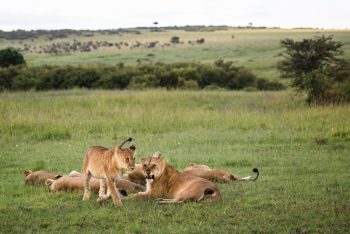 3 Days Trip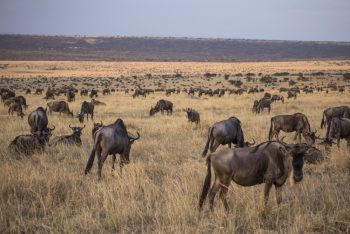 4 Days Trip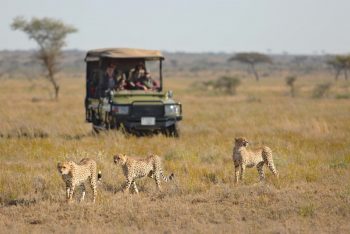 5 Days Trip
Read More