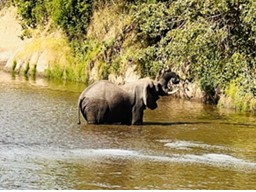 5 Celebrities Who Have Enjoyed Safari Kenya and What They Had to Say
Kenya is the world's number one safari destination, and its intriguing wildlife has made the country the preferred option for many. The list of positive reviews from those who have experienced safari Kenya is endless. Some of these were done by well-celebrated personalities. Some have made Kenya regular trips to the fantastic parks and attraction sites. Here are the reviews done by some of these celebrities who enjoyed every moment of their safari in Kenya
1. Prince William and Kate Middleton
On their trip to Mount Kenya's foothills, Prince William proposed to Kate Middleton. The two were on an adventure in Kenya's Lewa Wildlife Conservancy in 2010, where they interacted with the indigenous rhinos and numerous zebras, elephants, giraffes, impalas, etc.
The royal family love the safari Kenya adventures; the late Queen Elizabeth also got crowned the queen of England during her trip to Kenya.
2. Ellen DeGeneres
Ellen DeGeneres was keen on accomplishing her childhood dream of 'taking care of gorillas' on her 60th birthday when she took on an African safari adventure with her partner Portia DeRossi. Her first stop was the magical Kenya, where she enjoyed her breakfast with the giraffes at Giraffe Manor, Nairobi. Her trip was exceptional, and she couldn't help but admire the beautiful African feeling. She spoke to the giraffes, saying, "your eyes are so pretty, you're so pretty."
3. Madonna
Madonna and her boyfriend, Ahlamalik Williams, traveled to Africa, where they first landed in Rwanda. Their next destination was Kenya, where they got authentic African culture. Next, the duo visited the Samburu National Reserve, where she interacted with the culturally rich locals. After the exciting experience, she wrote this on her Instagram: They are nomadic warriors, and here the men are singing, dancing, and telling stories to attract the attention of the females. #Samburu #inspiration #Kenya".
4. Sir Richard Branson
Sir Richard Branson is on a mission to protect the lands that host the Great Migration. The renowned English businessman, investor, and philanthropist is known for his deep love of African Safaris and has made Kenya his second home. During his regular trips to the country, he opened the Mahali Mzuri luxurious camps. Sir Branson said nothing beats the unique safari Kenya destination, from the exciting parks to the fascinating cultures.
5. Naomi Campbell
Naomi Campbell, a British supermodel, went on numerous trips to Kenya, where she took a break from everything and enjoyed the captivating wildlife. One of her favorite adventures was her visit in December 2018, where she also did a photo shoot for vogue. She said, "There is a lot of tranquility in Kenya; Individuals should be confident when visiting Kenya. Life in Kenya is natural and beautiful".
Her love for the authentic safari Kenya experience earned her the Magical Kenya Tourism Ambassador in 2021. Naomi went from being a safari lover to the face of the world's best safari destination.
Conclusion
The reviews from these celebrities who have enjoyed safari Kenya confirm that the country is the best destination for an unforgettable experience. The fantastic parks, friendly locals, and rich cultures are just some of the things that make Kenya stand out. If you haven't been to Kenya, you're missing out on an excellent opportunity for a life-changing experience.