Ultra-Luxury 5 Day Tanzania North Circuit
Want to fulfill that bucket list item of a safari expedition? Well, make a trip along the north safari circuit of Tanzania, and you can check that box with satisfaction!
Serengeti. Lake Manyara. Ngorongoro Crater. You've heard about these famed destinations, but to actually experience them up close is an entirely different matter. From conservation and sanctuary areas to game reserves, the famed Northern Circuit of Tanzania contains some of the best and well-known safari experiences of Africa.
Want to feel the intensity of the wild animals running through the vast plains of the Serengeti during the Great Migration? Add in the beautiful views of the savannah complete with acacia trees, and this trip will become a beautiful memory that you can capture in photographs and stories to share for many years to come.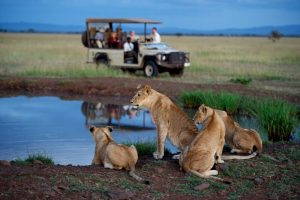 Get ready for the trip of a lifetime! Your guide will pick you up from the Kilimanjaro International Airport, where you'll head over to the Ngorongoro Serena Safari Lodge to get settled in. You'll then head over to the Ngorongoro Crater Conservancy Area after lunch, where you'll witness the incredible views of the Ngorongoro Crater, the 2000-foot high crater rim known as the world's largest intact volcanic caldera.
After another visit to the crater and a trip to the crater floor along with a tour of the crater (including views of the amazing animals that live in there), you'll proceed to the Eastern Serengeti, where you can participate in a walking tour of the expansive terrain, or transport yourself on a hot air balloon ride overseeing this famous area of East Africa. Your day ends at the Mbuzi Mawe Serena Camp.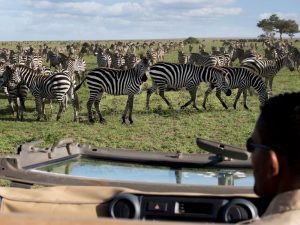 Ready for another day of adventure? Witness the playful lions climbing trees at Lake Manyara National Park, where you'll also enjoy the beauty of the landscape and the multitude of birds that reside here. You'll then check in for your luxurious accommodations at Lake Manyara Serena Safari Lodge.
By now you've had the experience of a lifetime and are ready to share your journey with loved ones. You'll prepare to depart to Arusha and head over to Kilimanjaro International Airport and board your flight home.