Ultra-Luxury 5 Day Gorilla Trekking Safari
A taste of things to come
Embark on an exciting 5 day adventure in Uganda which takes you through the misty
Bwindi National Park
for the Gorilla Trekking activity, followed with an exploration of
Queen Elizabeth National Park
to enjoy a great game viewing experience in the
Ishasha sector
as well as a boat cruise on the Kazinga channel. Finally, immerse yourself in the
Kalinzu
Forest for an amazing Chimpanzee trekking experience.
Kampala to Bwindi Impenetrable National Park
Our guide will pick you up at your hotel in Kampala (or Entebbe) at 7:00 am. You will later be driven in a comfortable and secure touring vehicle to Bwindi Impenetrable National Park in the South-West which will take around 9 hours of drive. Lunch will be provided en-route at Mbarara.
You will arrive at your accommodation in Bwindi in the evening.
Bwindi Impenetrable National Park (Gorilla Trekking) to Ishasha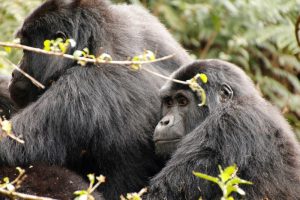 Start the day with an early breakfast at 6:30 am and head to the park headquarters to join other trackers in a briefing about the gorilla trekking rules at 7:30 am. You will trek through thick creepers and undergrowth with your guides to find the Gorillas, which can take you 1-8 hours.
The steeply forested landscape is incredibly dense but crisscrossed by numerous animal trails allowing access by tourists. Transfer back to to Ishasha Sector for accommodation.
Ishasha Sector (Game drive) to Queen Elizabeth National Park, North
Start the day early and head to Ishasha, famous for the tree climbing lions lounging in the tree branches while keeping a close eye on herds of Uganda kob, their favorite prey, you could have a chance to spot some tree climbing lions.
Enjoy a picnic lunch before continuing with a magical Game drive, before heading to Queen Elizabeth National Park, North where your next stay is located.
Queen Elizabeth National Park (Game Drives and Boat Cruise at Kazinga Channel)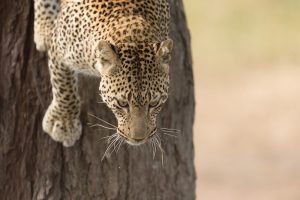 Head off for a game drive at the break of dawn to spot Africa's highly famed Big 5, Bush Bucks, Giant Hogs, Antelopes, Waterbucks and plenty of birds.Enjoy a scrumptious lunch on your return. After your lunch you will go for a two-hour Boat cruise on the Kazinga Channel which connects Lakes George and Lake Edward. Enjoy watching giant hippos, elephants and crocodiles among others. This area is also renowned for its fantastic bird life which you'll enjoy viewing.
At sunrise, head to Kalinzu Forest Reserve for a 3-4 hours chimpanzee trekking with a tracker and guide. The Forest Reserve is home to 6 groups of chimps, comprising over 300 individuals and tracking currently enjoys more than 80% success rate.