6 Days Best of Tanzania Safari
Introduction
Featured Parks: Tarangire, Ngorongoro crater, Serengeti National Park, Lake Manyara
Imagine spending whole 6 days on an authentic African safari. It really is a unique adventure encountering
amazing wildlife in their natural habitat. Prepare for a truly wonderful adventure few will ever experience.
After breakfast, you will be picked up from hotel by your Tanzania safari guide and driven to Tarangire National Park arriving in time for lunch. Tarangire National Park is almost 3000 sq km in size and is probably best known for its huge numbers of elephants and baobab trees. The name of the park comes from the Tarangire River which crosses through the park. Tarangire is especially spectacular during the dry season (June – November) as wildlife concentrations rival that of the Serengeti (since enormous populations of elephants and other animals are drawn to the Tarangire River as their only source of water). With its varied habitats and permanent water in the Tarangire River the park is home to over 2000 elephants and 500 bird species. Dinner and overnight at the Sangaiwe Tented Lodge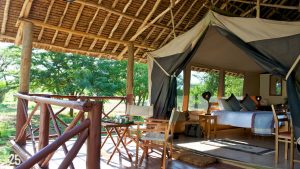 Early morning, checkout and proceed to Lake Manyara National Park arriving in time for lunch. Enjoy afternoon game drive. Although small in dimension (205 sq. miles), the park has breathtaking scenery and well famous for its lush acacia forest, giant figs, and mahogany trees, as well as to a growing population of baboons and blue monkeys. Dinner and overnight at the Marera Valley Lodge lodge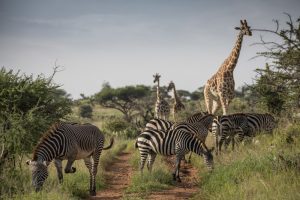 After breakfast, leave Lake Manyara and drive to the Serengeti, Tanzania's most famous national park arriving in time for lunch. Proceed for an afternoon game drive. Dinner and overnight at the Osinon Tented Camp
After breakfast, spend full day with game drives. Serengeti offers some of the best wildlife viewing in Africa and home to the greatest wildlife spectacle on Earth, the Great Migration.
Every year, over two million wildebeest and zebra migrate north from Serengeti National Park to the Masai Mara Reserve in Kenya. Dinner and overnight at the Osinon Tented Camp.
After breakfast, check out and proceed to Ngorongoro crater with picnic lunch. The Ngorongoro crater is the world's biggest whole volcanic caldera at 8300 sq km and is arguably the most stunning arena. The area contains over 25,000 large animals including 26 black rhinoceros.
There are 7,000 wildebeests, 4,000 zebras, 3,000 eland and 3,000 Grant's and Thomson's gazelles. The crater also has the densest known population of lions, numbering 62. Higher up, in the rainforests of the crater rim, are leopards, about 30 large elephants, mountain reedbuck and more than 4,000 buffalos, spotted hyenas, jackals, rare wild dogs, cheetahs, and other felines. Dinner and overnight at Marera Valley Lodge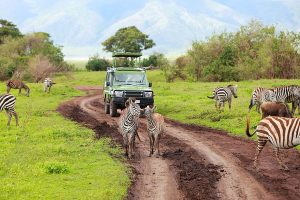 After Morning breakfast at your lodge, Depart Ngorongoro for Arusha and where the safari ends.